Free Ayurveda Health Awareness Camp
October 22, 2016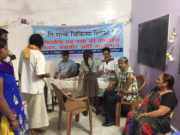 We adapted the three floors of our building to organizethe Free Ayurveda Health Camp for school children and for the local public.
Dr. Shishir Prasad and his team from Hardwar Ayurveda University examined more than 170 people, with problems ineyes, ears, nose, throat and all kind of joint ache.
Some of these patients have to undergo cataract surgery in Hardwar, so after Diwali I organized the trip to take them to the hospital.
Such an ambitious event required a lot of work, like spreading the information campaign, preparing food for the staff and chai for everyone, organizing the patients, etc.Fortunately we have the voluntary participation of friends, teachers and home stay students throughout the day. Thanks to all of them the Ayurveda Camp was a success and we hope to be able to repeat it next year.
As a result of this collaboration the following month, Dr. Shishir Prasad and I organized a workshop about Ayurveda and Marma Therapy for more than 30 yoga students, and the money collected was entirely donated.
Thanks Dr. for your generosity.