News Spring 2009
April 15, 2009
Annual function
In March, we had our end-of-school-year function, which was a big success. At the event, the children performed dances from each and every Indian state. The attendees also enjoyed very much the hula-hoop dance the children performed and choreographed. As usual, we also had an environmental play.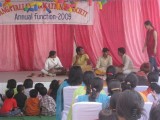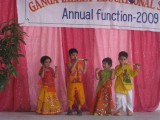 (More pictures at the bottom of this article)
---
Visitors
We had a wonderful visit from Talassi who brought lots of goodies for the kids. The children were very excited to get clothes, shoes and toys. Talassi also bought a cupboard, bed and kitchen equipment for the school. While Talassi was here, one of our boys fell ill with malaria. He was lucky that we had donations available at that time for his treatment at the hospital. The boy is now well and doing fine.
In March, we had visitors from Chile who performed a ballet dance for the kids. The children especially liked the many gifts the Chileans brought. Gurusahai and her friend gave a lot of their time teaching yoga to the kids and Rachel. The techniques learned are now being used daily at the school. Our friends from Chile found a lot of goods at our shop which they bought to take back home. We all thank them very much for their purchases.
A group of Americans led by Ashley as well visited us. Dinner with them was very entertaining for all who attended. We thank our friends for their visit and contribution.
---