Autumn News
October 3, 2010
Dear friends and supporter of Ganga Valley School,
I apologize for the delay in updating you all with our seasonal newsletter. This task was usually carried out by volunteers.
However due to heavy monsoon (The Ganga flooded at critical level) Rishikesh has had no foreign tourists passing through.
You have all through been much on my mind. The children are all well and send their Namaste to you.
I together with children would particularly like to express our heartfelt gratitude to the following people:
Tien – His bike which we sold and fetched us Rs 12,000
Dr Elisabeth Veit- Who donated euros 200
Mrs. Christina Steinbeck- Who donated euros 50
Due to off season and the bad monsoon our shop generating no income so their donation came to our rescue in our daily needs like food, toiletries and medicines.
Once again we want to thank Om and Regina warmheartedly once again. We utilized their donated funds for following purpose during summer holidays
Built shade on the roof
Renovated the main gate
Covered the drain
Bought desks, benches and blackboards (Now bigger children do not have to study in their bedroom)
I promise to send you a more detailed newsletter as soon as we have a volunteer on board.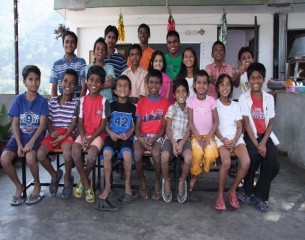 Thanking You
Rachel