Merry Christmas
December 28, 2010
Merry Christmas and a Happy New Year
to all the friends and supporters of the Ganga Valley School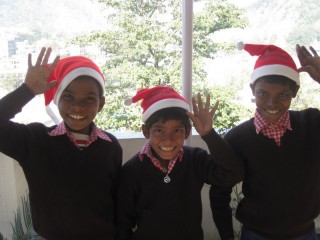 The children are having macramé lessons (method of knotting and weaving) from our volunteers Gio and Kaira. The children are enjoying that. Gio and Kaira also plan an overnight excursion with the children to an ashram at Neelkanth on Christmas.
Thanks to Peter for his contribution to the food cost in December, Frank for his donation to the January food costs, Piyara and all her friends from the Netherlands for their donation. A land and existing room for the childrens accomodation were kindly donated by Mrs. Sakumbri Negi. There the younger boys can sleep from now on. Construction for that has begun: building two toilets, bathroom and a kitchen (pictures see below).
We have to do this project urgently because the existing accommodation at the school needs to be converted into classrooms to fulfill the requirements for the government registration as a recognizes teaching institution. Now we urgently need funds to complete the
two toilets, one bathroom, one kitchen (final costs will be about Rs 120,000 / 2033 €)
to repair the room's roof (costs will be Rs 15,000 / 254 €)
to paint the rooms, bathroom, toilets, kitchen (costs will be about Rs 10,000 / 170 €)

Please give what you can – every little bit helps the ganga-valley-school.
Peter has already contributed Rs 29,000 / 491 € and Piyara Rs 8,000 / 136 €.
We have donation money for November Rs 15,000 / 254 €(Ashley, Janis, Barbara and Julie) and Rs 5,000 / 85 € (Swami Ram).
So there is a minus of about 88,000 Rs / 1.517 Euro.
We beg you for your help.
Best wishes
Rachel
and all the Ganga Valley School children
and staffs