Monsoon 2016
October 2, 2016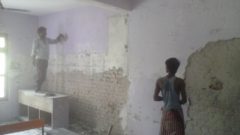 Greetings to all our friends. We have survived another Monsoon, this one was busy, long, and still continues. It's raining today as I write this!
Since the summer, we have accomplished major interior renovations. Before the renovations, we were having peeling paint, plumbing problems, and electric problems. Our Summer vacation was busy working on repairing our beautiful Ganga Valley School and home. We added a beautiful exterior extension, and we added two new toilets. We have painted all the rooms, repaired our plumbing, and updated our electric wiring. And we have added a major security gate at our front entrance and side wall. Before the gate the entrance and side was fully open. Thanks to our generous donors, we now have safety.
We were able to do this all through the generous donations of Janiss, Gari, Human Software, Gerdien, her mother in law Lia, her sister Paulien and Swami Ram.
Thank you everyone for your dedicated support. You have made a huge difference in our safety and living conditions.
---
New Teacher
We are happy to report we have a new teacher for the Maths and Science Tutoring, for the Home Stay children. It is making a great difference in their studies. Thank you!
---
Continued Support For the Months of July and August
Thank you Talassi, Frank and their Friends for the continued support in living costs, and food cost for Ganesh, Rajan, Ashish, Sahil, Vishal, Santosh, and Laxmi, our Home Stay children.
---
Appeal:
We need continuing funds for food and living costs for the upcoming months, for Vishal, Laxmi, Santosh, Ashish, Ganesh, Sahil, and Rajan.
An extra appeal would be deeply appreciated for the upcoming festival season of Diwali, a Festival of Light; It is traditional to exchange gifts at this time . We especially need clothes for the children for the upcoming cooler seasons. The upcoming weather seasons brings a need for warmer clothes such as sweaters, jackets etc.. We need your help to supply these gifts. Thank you.
We are in need of three back up batteries for our building when the electric power goes out. This happens very often here in Rishikesh.
The cost of three of batteries Rs 30,000 (400 €).
---
Blood Donation Camp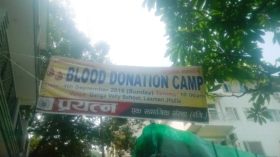 We were proud to have hosted and organised our Second Annual Blood Donation Camp.
There is always a blood shortage for the hospitals. We picked a day, the fifth of September, and spread the word to the local community. The Drs from Himalaya Hospital in Jolly Grant were here to collect the blood.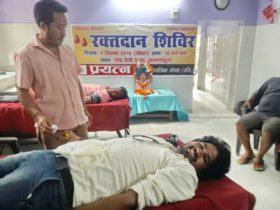 More than 100 people showed up. Last year we collected 40 packets of blood, and this year we collected 70 packets! We are so proud to have been able to sponsor an activity that saved lives! The home stay children and school staffs helped in preparing the rooms with cleaning, rearranging furniture, running errands, and so much more. They were so involved and saw how valuable this effort was.
---
Medical Care and Helping Neighbors
Thank you to Amit and Priya who have financially supported us for the immediate medical help for needy children and people living in our community. Without their support, we could not do so. You are truly a part of the community of our hearts. Thank you.
If our school children need help, or our neighbors need help, we do our best to contribute in their care. We are a community, and it is good to help one another. And the children see that kindness and involvement is also something they learn here. The children see that we are a caring community, and All our children participate in neighborly care. Kindness, compassion and helping are traits we want the children to see, and help the people in need.
Here are the few cases in which we helped in community care:
Gayatri
is one of our students, she is 9 years old. Earlier this year she had a terrible accident when she tried to stop the boiled milk from spilling out of the pan in her home. She rushed to get the milk, and it spilled all over her arm. She had three degree burns. Her family rushed her to the local hospital. We could see the arm was not healing properly and so we took her to Private Dr. It took almost 2 months to heal the wound. This was a long and painful process for Gayatri, but she was brave and never complained.
We thought everything was fine, but when monsoon came, her skin erupted, and a new infection set in. We took her to burn Specialist, he did a skin graft. Her treatment continues and she receives proper care. The older home school boys help in taking her to the Dr for regular visits.
Bimla
is an elderly lady who lived alone in the village above the school. She got a terrible injury in the back of her foot. She was unable to care for it herself and it became terribly infected and was filled with maggots when Rachel was made aware of her condition. For many days, weeks, we would take her for cleaning and dressing the wound at the hospital. Finally the wound cleared up and she was able to cook for herself again. While she was ill we cooked for her, provided her food, and gave her medications. The older children helped in delivering her food, and the older boys would transport her to the hospital. They are learning how important it is to help others.
Sadly, we have to report that Bimla did recently pass away. She had a heart attack outside, and it was instantaneous. The villagers saw her collapse, and she was gone. At least we provided her with care in her time of need, and our children helped in her care.
We also helped Poonam with her Tuberculosis care. We took her to the hospital visits, we saw that she took her medicine regularly, and provided her with nutritional food and provisions, so she could recover. We took Sunita, a worker in a local restaurant and mother of one of our school children too many Dr visits to treat a very painful cyst on the back of her knee. Surgery is recommended by all the Drs, but she is afraid. We are there for her if she decides to go for the surgery.