Wishing Everyone Merry Christmas
and Safe Happy New Year!
December 29, 2014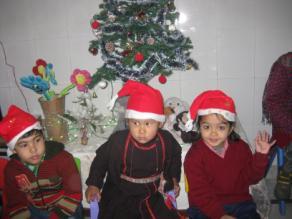 This Christmas Amit and Priya brought lots of happiness for the homestay children.
When Priya and Amit visited us all the children were very excited and happy and immediately they started to make the list of their needs.
Heartful of thanks to Priya and Amit for providing school stationeries, bags, shoes, slippers uniform track suits for all the homestay children. As they growing bigger their needs are also growing in terms of large clothes, shoes,bags, underwares, socks and the school stationeries. They were so excited to go shopping and buying their own new things and after shopping having lunch in the restaurant.
Priya and Amit, you have been giving most beautiful gifts to these children for the Christmas for the last two years.
Christmas Celebration
Our Christmas season started out with a fun and enjoyable. On 24th during the day children of gangavalley had a party.

Diwali Celebration
Diwali is a special celebration of light in India. Children love this festival. They enjoyed a lot decorating the school with lights and flowers, and making sweets. On this happy occasion Maria, Tim Brown And his group together with children had a dinner. All the children had great fun dancing with foreign friends . Thanks Tim and Maria for bringing so much joy to the children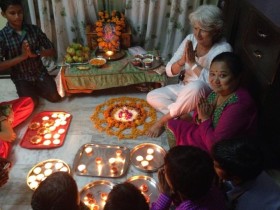 School Sports Day
On the 16 of November we celebrated School Sports Day. Each class performed a song. They were practicing their performance every day after lunch for two weeks in advance. Next to that we had a competition between various houses (Red, Yellow and Green) with some traditional games like a sack race, a three-legged race and running with a lemon on a spoon. Finally the Green house won most of the games. The teachers and parents also had a competition. At the end had a great lunch together and Children got gifts and prizes.

A big Thank to Swami Ram, his generosity made an immediate difference in the lives of Ganga valley School children and staffs. All the children appreciate the
Diwali clothes
,
Batteries
which save us from the darkness,
HP printer and Anti Virus Software
for their computers. ).
Meals for Homestay Children
(11 children + 3 staffs)
for Three months
(December, January and February).
We really appreciate your years of support, with which Ganga Valley school can give the right education for the children in Rishikesh.
Merry Christmas and Happy New Year!